Parameter Estimation in Motor Vehicle Dynamics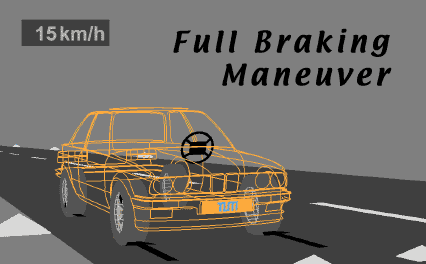 Video
Identification of the brake friction coefficients for a commercial passenger car using a full vehicle dynamics model, optimization methods, and measurements of dynamic vehicle state variables taking during a full braking maneuver (2000):

AVI file (8.7 MB), MOV file (10 MB)
Relevant Publications
T. Butz, O. von Stryk, C. Chucholowski, S. Truskawa, T.-M. Wolter:
Modeling techniques and parameter estimation for the simulation of complex vehicle structures.
Submitted.
T. Butz, O. von Stryk, T.-M. Wolter:
A parallel optimization scheme for parameter estimation in motor vehicle dynamics.
In: A. Bode, T. Ludwig, W. Karl, R. Wismüller (eds.): Euro-Par 2000 - Parallel Processing. Lecture Notes in Computer Science 1900 (Springer-Verlag, 2000) 829-834.
PostScript file (213kb), gzipped PostScript file (56kb), PDF file (186kb), gzipped PDF file (115kb).
T. Butz, O. von Stryk, M. Vögel, T.-M. Wolter, C. Chucholowski:
Parallel parameter estimation in full motor vehicle dynamics.
Cover story of SIAM News Vol. 33, No. 4/Applications on Advanced Architecture Supercomputers (May 2000).
PDF file (75kb), PostScript file (233kb), gzipped PostScript file (86kb).
The video of the article is also available from the SIAM website.
T. Butz, O. von Stryk:
Parallel parameter estimation for vehicle dynamics simulations.
In: Proceedings of the 14th Supercomputer Conference, Mannheim, June 10-12, 1999.
In the News
Fachgebiet Simulation und Systemoptimierung, TU Darmstadt