Virtual Test Drives of Passenger Cars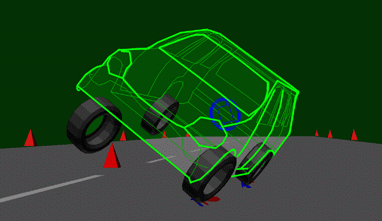 Videos
Relevant Publications
M. Vögel, O. von Stryk, R. Bulirsch, T.-M. Wolter, C. Chucholowski:
An optimal control approach to real-time vehicle guidance.
In: W. Jäger et al. (eds.): Mathematics - Key Technology for the Future (Springer, 2001) to appear.
Chucholowski, C.; Vögel, M.; von Stryk, O.; Wolter, T.-M.:
Real time simulation and online control for virtual test drives of cars.
In: H.-J. Bungartz, F. Durst, and Chr. Zenger (eds.): High Performance Scientific and Engineering Computing, Lecture Notes in Computational Science and Engineering 8 (Springer-Verlag, 1999) 157-166.
PostScript file (21590kb), gzipped PostScript file (364kb).
von Stryk, O.; Vögel, M.:
A guidance scheme for full car dynamics simulations.
Z. Angew. Math. Mech. 79, Suppl. 2 (1999) 363-364.
PostScript file (6991kb), gzipped PostScript file (114kb), PDF file (180kb).
Fachgebiet Simulation und Systemoptimierung, TU Darmstadt