Darmstadt is located in the center of the Rhine-Main-Neckar area, one of the most prosperous parts of Germany. Darmstadt has a rich cultural heritage with roots in the Art Nouveau, which is still visible in the cityscape. The city is well connected to other interesting cities such as Frankfurt with its international airport and Heidelberg.
The main conference, workshops and tutorials of SIMPAR 2010 are held at the darmstadtium. This new convention center is located right in the city center of Darmstadt and in walking distance to many hotels, the large pedestrian zone with many shops, cafes and restaurants, the Artists' Colony and the TU Darmstadt. The darmstadtium was named after the 110th element DS.
Most of the workshop, tutorial and conference rooms also offer nice views to the Residential Palace (Schloss) of Darmstadt.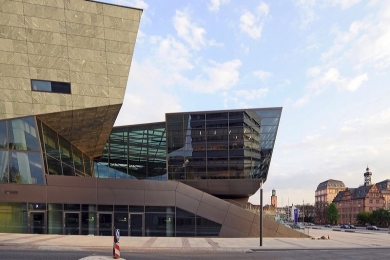 Foto: darmstadtium / juergenmai.com
More impressions can be found on the website of the convention center.