The project has been finalized.
News
Sep. 7, 2009,
Kassel: BioRob Project wins the 3rd place of the
Hessische Kooperationspreis
April 7, 2009,
Leuven: BioRob project wins 1st price of the prestigeous European
EURON/EUROP Robotics Technology Transfer Award!
---
A Biologically Inspired Robot Manipulator for New Applications in Automation Engineering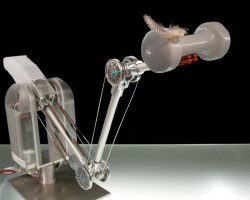 BioRob - combination of force and leightwight design
In the scope of the BioRob project, a novel type of compliant robot arms for applications in automation is developed and tested, for which conventional industrial robots are suitable only to a limited extent. Through the passive compliance, a high level of safety is achieved, making the bionic robot suitable for applications in the direct environment of humans without the use of additional safety precautions.
Elasticity and Lightweight Design
The motor of the bionic inspired drive is elastically coupled over wires to the joints and implements one of the basic characteristics of the muscle tendon apparatus: Elasticity. Furthermore, the wires release the arm from bending stress and enable a lighter construction without reducing the load capacity.
In spite of the flexible structure, high precision movements without oscillations or overshooting can be achieved, with our new control approach. In addition to a safer human robot interaction, elasticity opens further advantages, which can be achieved by conventional industrial robots only due to additional expenditure.
Applications
Size and load capacity of the BioRob are oriented at the human arm. The manipulator will possess a range of approx. 0.5 - 0.9 m and will have a max. load of approx. 2 - 3 kg with a dead weight of approx. 3 - 3.5 kg. The working frequency at max. load are expected to be within the range of 1 sec.
Within the cooperative project the bionic manipulator will be integrated and tested exemplarily in different applications in three different industrial sectors:
automated handling and planting of seedlings
flexible handling in the production of small aluminum objects with short changeover time,
automated handling (extraction, storage) of biological probes in a cryogenic environment (cryo-banking)